Local Information
Maps | Parking | Dining | Public Transportation | Things to Do
Greater Toronto Area
(PDF, 1MB)
Downtown Toronto Area
(PDF, 1.5 MB)
St George Campus Map
- select "Bahen Centre for Information Technology (BA)"
Toronto parking officials at the University of Toronto are very vigorous in their duties. Parking tickets are $30+ and are issued by the city.

Make sure you obtain a parking permit and park in an allowed spot.
Street parking is $1.50/hour but permits are issued for 2 hours maximium only. Obtain permits from the cash machines (credit cards are accepted) and display them on your dashboard.
Parking on campus is $6/hour or $14/day. There is a flat rate of $5 after 5 p.m. Monday - Friday and all day on weekends. Daily passes can be purchased from ticket dispensers at various locations or at kiosks upon entry into the main campus area.
The arrows on the bottom-left corner on the map below shows the entrance to the closest all-day pay parking:
in the underground parking deck under the Bahen centre - enter from Huron street between College and Russell, $14/day from permit machine (until 5pm, $5 thereafter)
in the Centre for Addiction and Mental Health - enter from Spadina Ave heading north, just after College, $10/day (until 6pm, $3 thereafter). Obtain ticket upon entry and pay upon leaving
on campus in the King's College Circle - entrance from St. George, or King's College Road off of College, $14/day (until midnight). Obtain permit upon entry at kiosk or from permit machines.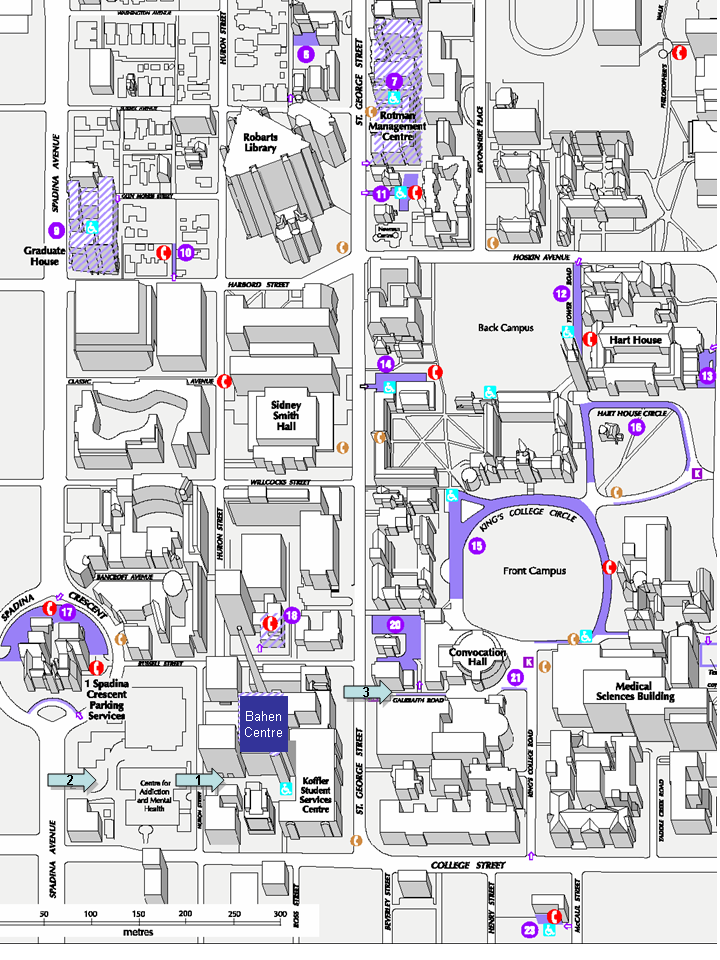 Click on map for larger version

There are a few places to eat on campus. The university is surrounded by local area eateries. In particular, the campus is located on the north-east corner of Chinatown, so there are many Asian restaurants in the area. The highest density of restaurants are Bloor street to the North, Harbord street to the West, and College Street, Spadina and Baldwin Avenues to the South. These areas are indicated on the map below.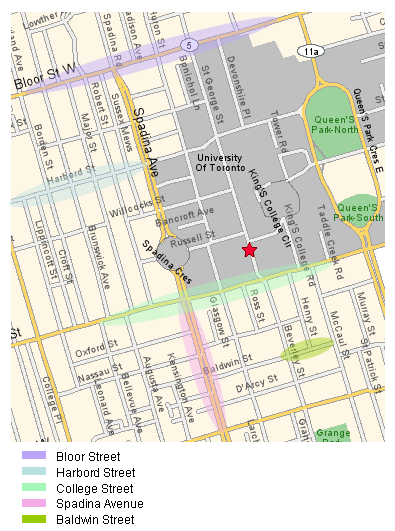 Restaurant reviews and suggestions are available from various online sites:
Toronto Transit Commission
- tokens are $2.50 each or $10.00 for five. Tokens are good on the subway, streetcar and buses with transfers available. Tokens or exact change are needed on buses and streetcars.
Subway Map (PDF)
Downtown Transit Map (PDF)
- the closest subway stop to the Bahen centre is Queen's Park at College and Queen's Park. Streetcars run along College Street and Spadina Avenue.
Home | Registration | Agenda | Program | Attendants | Travel | Lodging | Banquet | Local Info | Laptops | Photos | Archive
---
Comments/questions to Leslie Groer
Last update: Wednesday, 22-JUNE-2005 00:44 EST